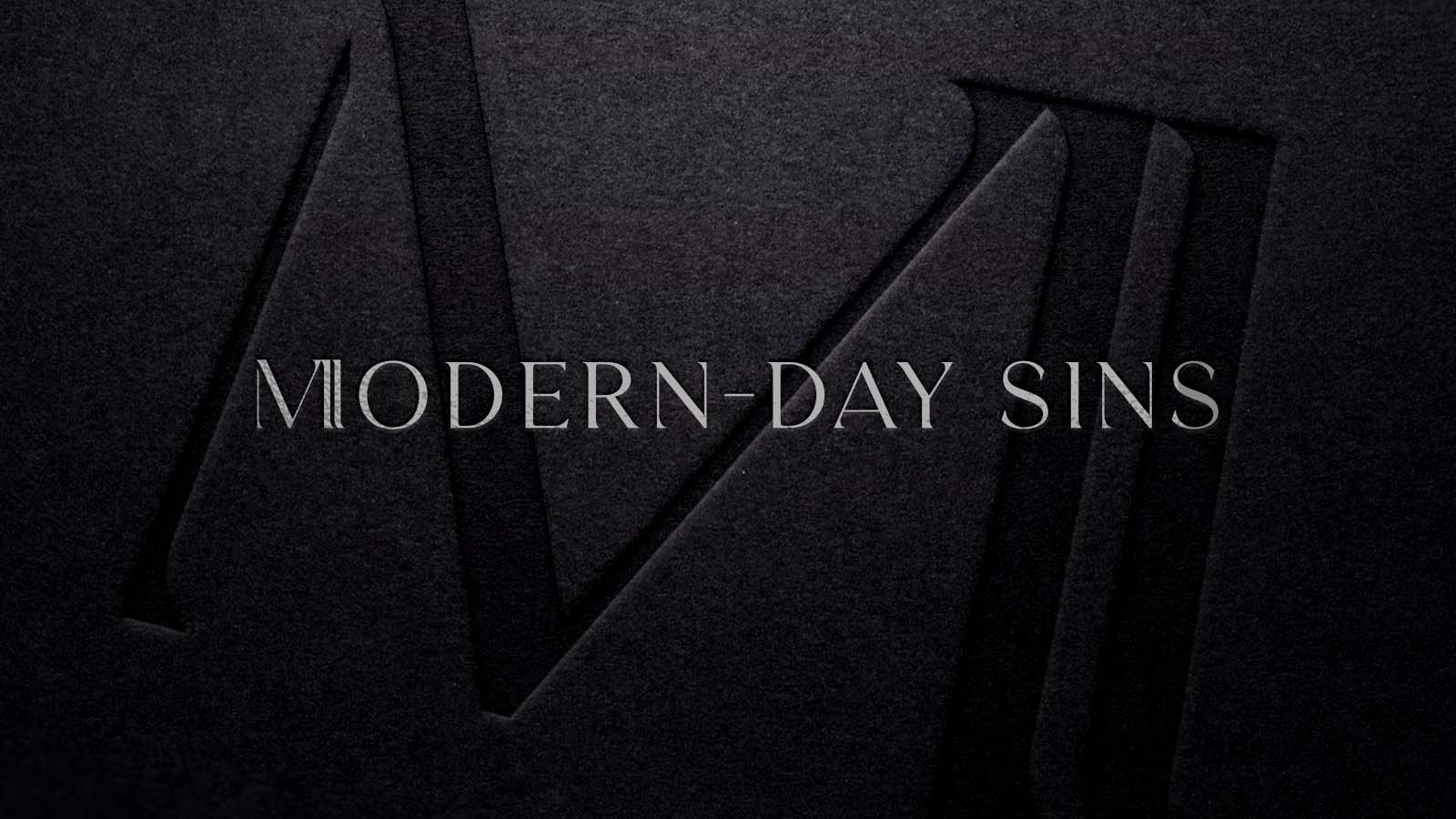 Desperate Times Call For Desperate Pleasures
Sins have come a long way since biblical times. The world's gotten more complicated, and so have our urges. The decadence and debaucheries of yesteryear seem utterly tame by today's standards. Modern times call for modern sins… more desperate, more wicked. And more tempting.
Indulge in Modern-Day Sins, the newest studio from Adult Time – launching January 1st, 2022. Themed around the infamous Seven Sins, Modern-Day Sins is 7 scandalous sites in 1 perverted package. It's our biggest release in the history of Adult Time, and we have PLENTY to tempt you with, but we're not going to just spill all our secrets just yet. That's a long time to wait – seven weeks, in fact – and we're going to tease you every step of the way.
It's 7 Weeks To 7 Sins as we build anticipation towards our official launch on New Year's Day. Each week leading up to release, we'll reveal more information about the studio – including the name and theme of one of the seven sites that make up the Modern-Day Sins studio. In fact, we're about to reveal the first one very soon – but first, let's get some common questions you may have about the studio out of the way. Seven questions, to be precise…
What are these "seven sins"?
In Christian religion, there are seven cardinal sins – gluttony, pride, greed, lust, wrath, sloth, and envy – that lead those who choose to partake in them down a path to damnation. They've been explored as a theme in literature, art, and even mainstream media and pop culture for centuries, and are a subject of endless fascination for storytellers, philosophers, and historians alike. For the pious, the Seven Sins are to be renounced and resisted. But for those fellow hedonists out there? Well, I suppose you could just call them a 'to-do list'…
What exactly is Modern-Day Sins? Is it a film? A limited-run series? A rebranding or spin-off of another site?

HELL no. Modern-Day Sins is a completely original studio with ongoing releases, just like similar studios on Adult Time such as Pure Taboo, Girlsway, 21Sextury, and plenty more. Like other studios, Modern-Day Sins will have its own signature style – it does porn differently from anything else you'll find on our platform. Fans can look forward to a weekly update (and sometimes more than one!) starting in January 2022 and continuing until the foretold End of Days. Which hopefully won't be for a long time yet.
What can we expect from the "official launch"?
2022 marks a New Year, New Site, New Sins. When you log into Adult Time (or your favorite studio site) on January 1st, you'll be met with not one, not two, but SEVEN launch episodes of Modern-Day Sins across various sexual preferences and spanning all sorts of debaucherous sex acts. We'll be launching with just one episode of each Sin to start, but worry not – starting January 9th and every Sunday thereafter, there will be a weekly update with one or two new episodes to tempt you. There's never been a better reason to skip church.
What do you mean "across various sexual preferences"? Is Modern-Day Sins aimed at straight fans? Lesbian fans? Or…?
Glad you asked – even though the majority of the episodes will be intended for straight audiences, Modern-Day Sins is Adult Time's first fully inclusive studio. What this means is that we will be producing and releasing ongoing episodes for each of our core audiences – straight, lesbian, trans, bisexual, and even our first gay original content produced and released exclusively by Adult Time! So regardless of your sexual preferences, there will be something to look forward to on January 1st when the studio launches. And don't worry – if you're only a fan of certain types of content, you will easily be able to hide the others using Adult Time's sexual preference filters – so you'll only ever see the episodes you're most interested in!
So does that mean I'll only like one of the seven sites?
We sure hope not! Even though each of the seven sites has a distinct theme, each site has been designed to be gender-neutral and fit with every sexual preference, so every sin can be enjoyed by every sinner. As long as you like Modern-Day Sins' style of "porn done differently" – its visuals, its storytelling, its sex – you'll find all of these elements have been kept consistent across all seven sites and all sexual preferences so that every release should be to your liking. And even if you're more of a fan of one site than the others, we've got you covered – we've planned plenty of episodes with overlapping sex acts and themes so that fans of one sin can look equally forward to the other releases.
So how DOES Modern-Day Sins do porn differently?
The Seven Sins are all about excess – about taking things a step too far. So we've created a brand that celebrates rather than condemns this attitude – a tribute to luxury, indulgence, opulence, and indecency. Modern-Day Sins gives raunchy porn a dramatic and luxurious makeover. We've taken modern-day characters and situations that are popular and relatable with today's porn audiences, and heightened them compared to real life – the people are more stylish and sophisticated, their attractions are more urgent and desperate, and their sex is more depraved and more intense. In both the story and the sex, every visual detail matters – it's an indulgent feast for the eyes where you won't want to skip past a single moment (in fact, you may want to skip back and watch some again and again!) We've taken a lot of inspiration from luxury brands (hotels, jewelry, watches, fashion, and more) to create an unexpected contrast between the sophisticated visuals and the lewdness of the content below the surface. Even the site names were designed to turn heads and make people do a double-take.
Which brings us to…
What are the sites that comprise Modern-Day Sins?
Ha, nice try, but you won't fool us so easily. There's still 7 weeks to go and we've only just started to share all the exciting goodies we have in store for you. Each week we'll unveil more and more sneak peeks at what you can expect from our new studio – pictures, trailers, cast lists, episode titles and premises, preview clips, and more – but the biggest reveals will be the names of the seven sites themselves. We're only revealing one today, so click the link below to get a taste of the first sin of many more to come…