Here are a few scenes that will be released on Adult Time in March 2023. We hope you enjoy them!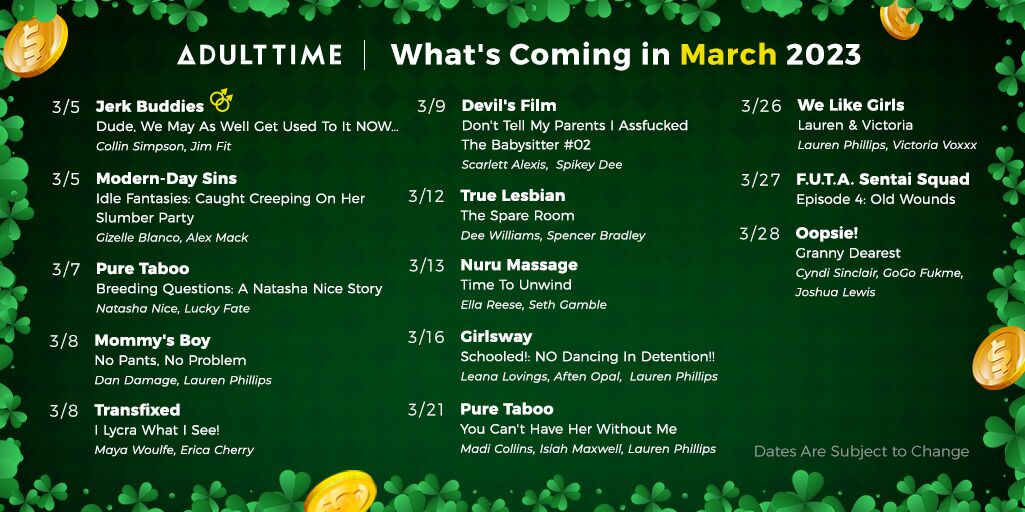 March 5 – Jerk Buddies – Dude, We May As Well Get Used To It NOW…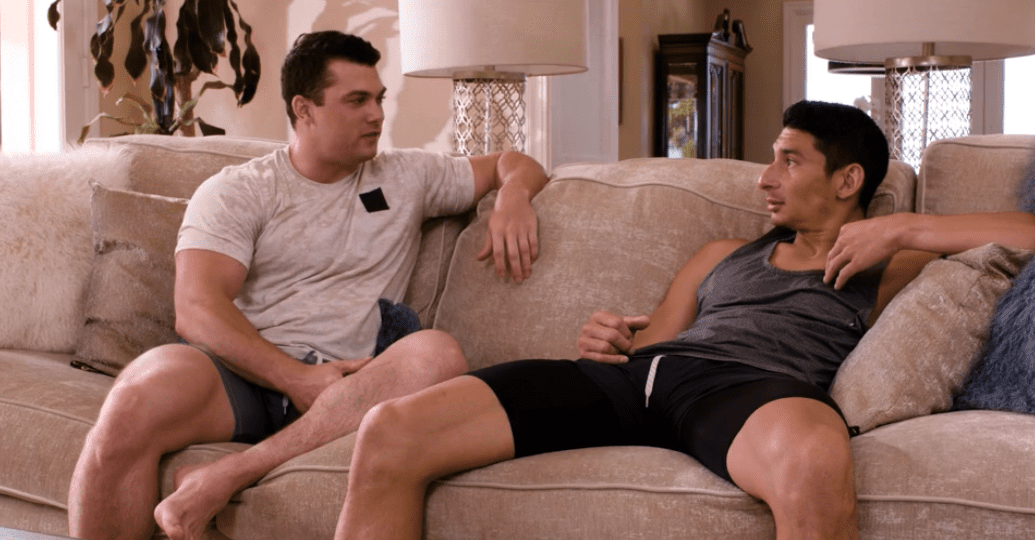 Why watch? Jerk Buddies is one of our members' favorite gay shows and this episode delivers!
Subscribers: Check it out here
Featuring: Collin Simpson, Jim Fit
Content type: Gay
Synopsis: Two friends/wrestling teammates are excited when the hottest girl in class asks them for a threesome, but then become nervous about seeing EACH OTHER hard for the first time. They decide to watch porn together to get used to being around each other while aroused, though their curiosity gets the best of them. They start to get increasingly sexual with each other, still in denial as they justify it as "not gay" in various ways, which eventually leads to steamy and explorative sex.
March 5 – Modern-Day Sins – Idle Fantasies: Caught Creeping On Her Slumber Party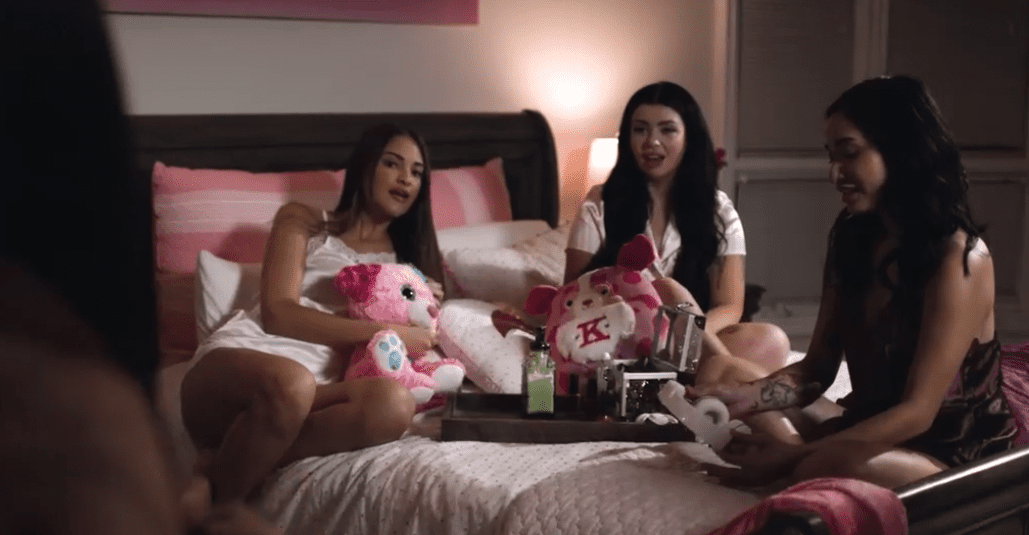 Why watch? Who hasn't wanted to spy on pretty and nubile ladies during their sleepover? Here is your chance!
Subscribers: Check it out here
Featuring: Gizelle Blanco, Alex Mack, Cameo: Summer Col, Avery Black, Holly Day
Content type: Straight
Synopsis: A horny guy's stepsister is throwing a slumber party with her friends, so the guy decides to spy on the friends through a crack in the stepsister's bedroom door. When one of her friends spots him, however, she confronts him in the hallway and seduces him. They have discreet sex in the hallway, narrowly avoiding getting caught as his stepsister and her friends continue to hang out in the next room…
March 7 – Pure Taboo – Breeding Questions: A Natasha Nice Story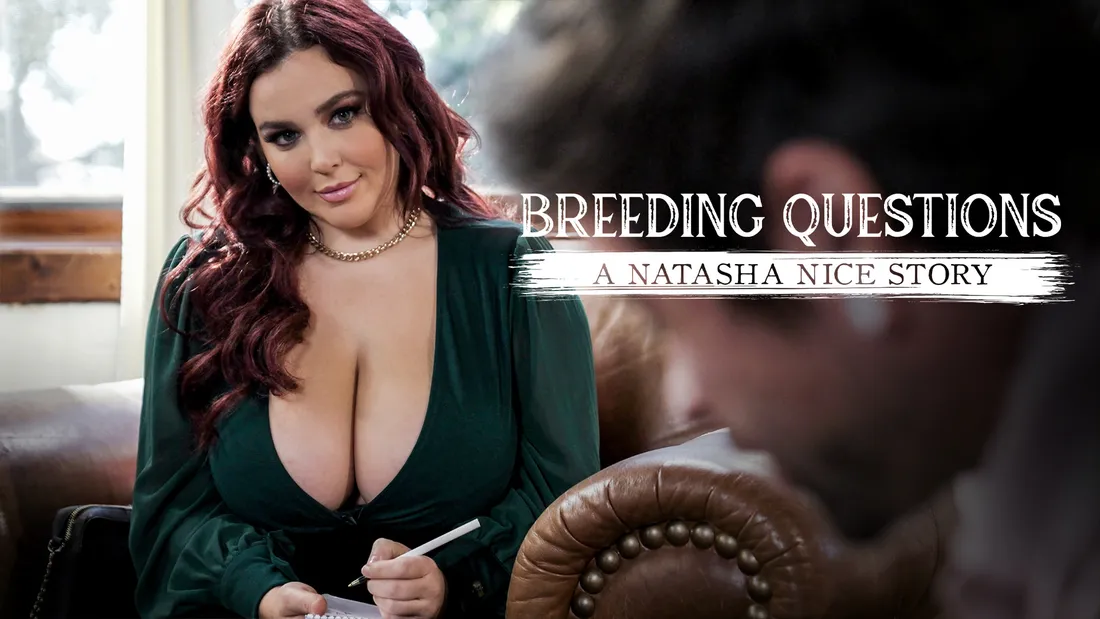 Why watch? Two simple words: Natasha Nice.
Subscribers: Check it out here
Featuring: Natasha Nice, Lucky Fate
Content type: Straight
Synopsis: Nice plays Miss Richards, a private investigator looking for answers regarding an illicit relationship at school between a student and popular art teacher Mr. Myrand (Lucky Fate). Her research into their relationship uncovers Myrand's fascination with breeding – and the euphoric risk of possibly getting his student pregnant. Miss Richards offers herself as the focus of these fantasies, with Myrand showing her exactly what he did with the student… for investigative purposes, of course…
March 8 – Mommy's Boy – No Pants, No Problem
Why watch? Okay, two more simple words: Lauren Phillips.
Subscribers: Check it out here
Featuring: Dan Damage, Lauren Phillips
Content type: Straight
Synopsis: A teen is in the bathroom doing his morning routine when he is shocked to see that his stepmom has forgotten to wear bottoms. She apologizes, but as she waits in the bathroom for the teen to finish, she catches him peeking at her semi-nude body. She quickly realizes this may be a good opportunity for them to bond. She offers to guide him through a sexual experience, leading to a fun sex session in the bathroom.

March 8 – Transfixed – I Lycra What I See!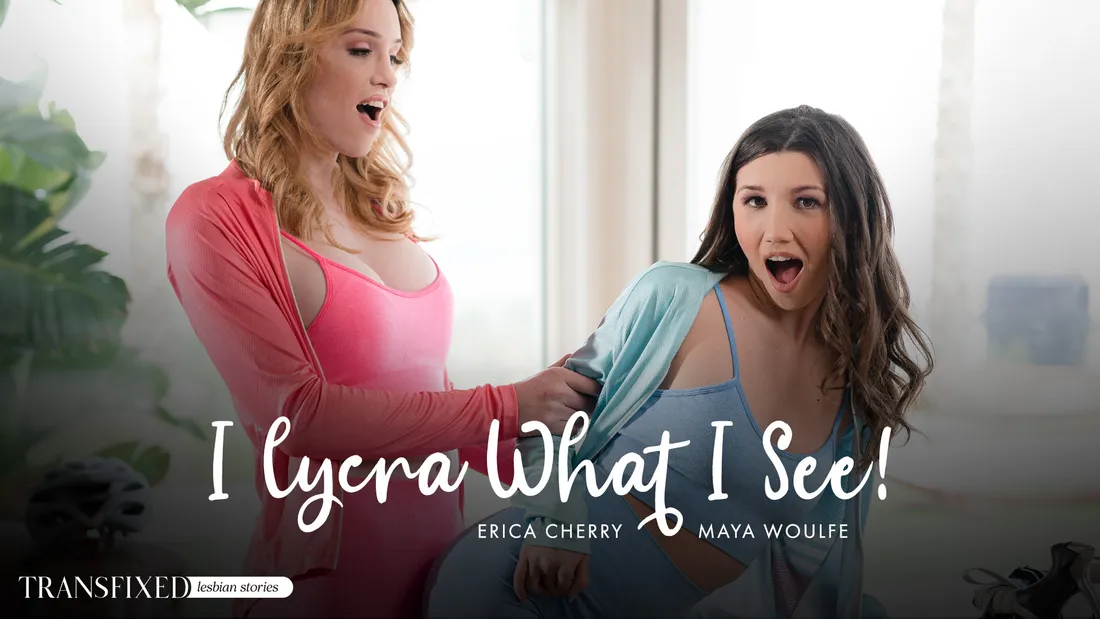 Why watch? Our members wanted more trans and lesbian content. We responded. Have fun!
Subscribers: Check it out here
Featuring: Maya Woulfe, Erica Cherry
Content type: Trans
Synopsis: Maya Woulfe returns home with her best friend, Erica Cherry, both wearing cycling outfits and carrying bicycle helmets. They are panting and sweating, as they agree that cycling is always such an intense workout. They're really feeling the burn! But then Maya winces slightly, saying that her BUTT is also feeling the burn – her behind feels sore from the bike seat. Maya asks if Erica would mind checking her butt to make sure nothing's wrong. That's what best friends are for, right?
March 9 – Devil's Film – Don't Tell My Parents I Assfucked The Babysitter #02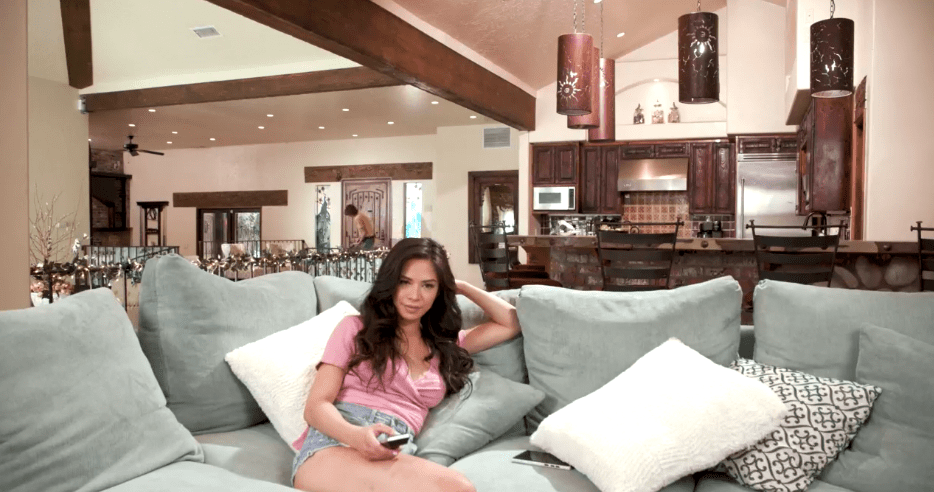 Why watch? At Adult Time we love beautiful butts. How about you?
Subscribers: Check it out here
Featuring: Scarlett Alexis, Spikey Dee
Content type: Straight
Synopsis: When a teen guy is horny but doesn't want the whole world to know (ESPECIALLY not his parents!), how can he get some action while keeping it a secret? Luckily, his family has a HOT babysitter there to fuck in the comfort of his own home!
Why's this dude even home anyways, the babysitter thinks, and why can't HE take care of the kids?? Maybe the boy is just too lazy and unreliable in his parents' eyes, or came back from college with no notice – typical guy shrugging off his responsibilities! When the son and the babysitter find themselves in the house together at the same time, they don't get along at first. But after the dust settles on their initial confrontation, they stop clashing for just long enough to notice they're both pretty attractive.
Whether the babysitter is the seducer or the seduced, she'll love the idea of livening up her dull babysitting job with some backdoor fun. But the son is a bit worried about being found out by his parents, so he'll ask this beauty with a booty to keep things hush-hush!
March 12 – True Lesbian – The Spare Room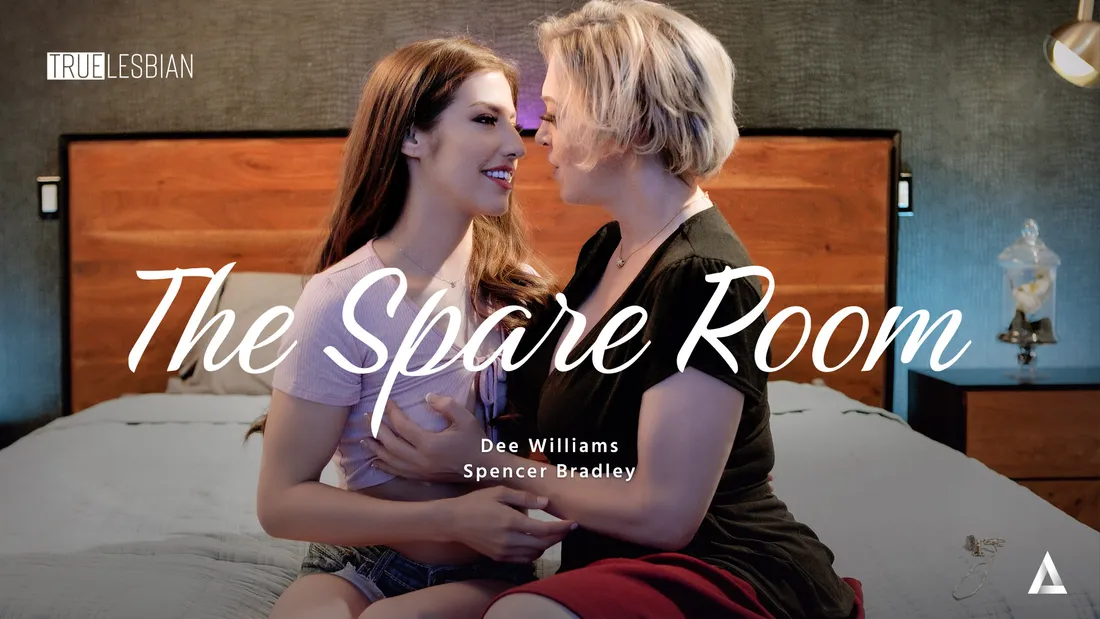 Why watch? True Lesbian always meets expectations when it comes to seduction and lustful sex.
Subscribers: Check it out here
Featuring: Dee Williams, Spencer Bradley
Content type: Lesbian
Synopsis: A lesbian widow rents out the spare room in her house to a young straight woman who just went through a bad breakup. Through intimate conversations, they develop a bond. The widow helps the young woman realize that her lack of success with men isn't just bad luck, but stems from something deeper. The straight woman eventually realizes with the widow's help that she is sabotaging her straight relationships because she's a lesbian, and has her first lesbian sexual experience with the widow.
March 13 – Nuru Massage – Time To Unwind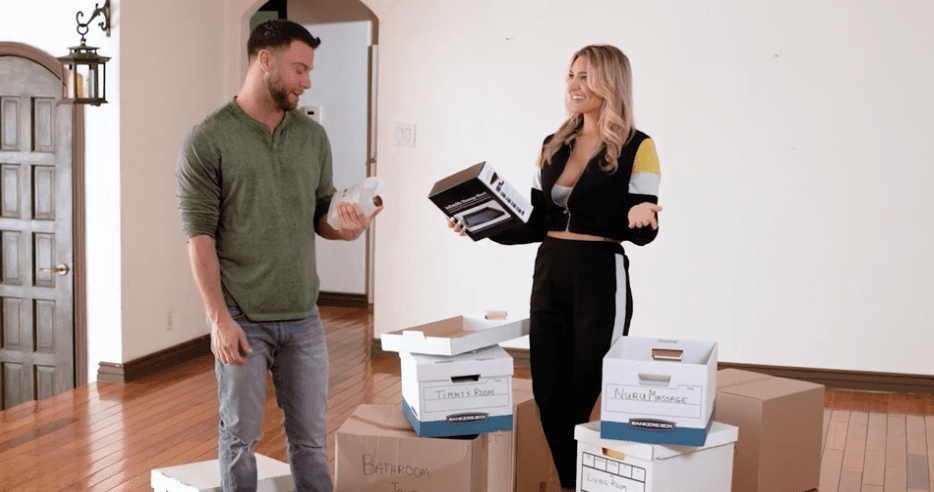 Why watch? You will dream of those soft hands on your body. We promise you that!
Subscribers: Check it out here
Featuring: Ella Reese, Seth Gamble
Content type: Straight
Synopsis: A husband and wife have just relocated to another state due to the husband's job and arrive at a fully-furnished company home. When they start unpacking, they discover a box filled with Nuru massage supplies and realize that the movers sent them someone else's belongings. The husband is stressed out since he starts his new job the next day and has nothing to unwind with. The wife becomes inspired and offers to use the Nuru supplies to give him a Nuru massage to help them both relax. They indulge in an intimate and erotic Nuru massage session that leads to them making love.
March 16 – Girlsway – Schooled!: NO Dancing In Detention!!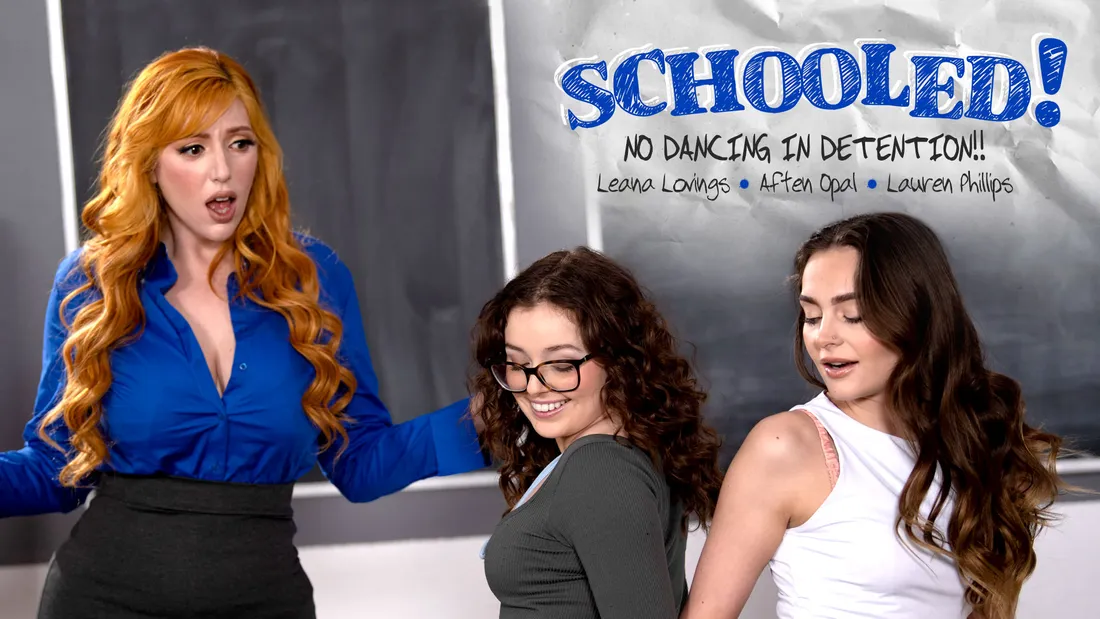 Why watch? Come on. Schoolgirls and their teacher. 😉
Subscribers: Check it out here
Featuring: Leana Lovings, Aften Opal, Lauren Phillips
Content type: Lesbian
Synopsis: A teacher arrives to supervise two students who are in detention, and is shocked to see that the students are dancing. The teacher insists that only homework and studying are allowed during detention, but the sly students point out that they're taking a dance elective, so dancing IS homework for them. The students keep dancing, making their moves increasingly sexy to mess with the teacher even further, until they get the teacher to join the dance… as well as join them for a hot threesome!
March 21 – Pure Taboo – You Can't Have Her Without Me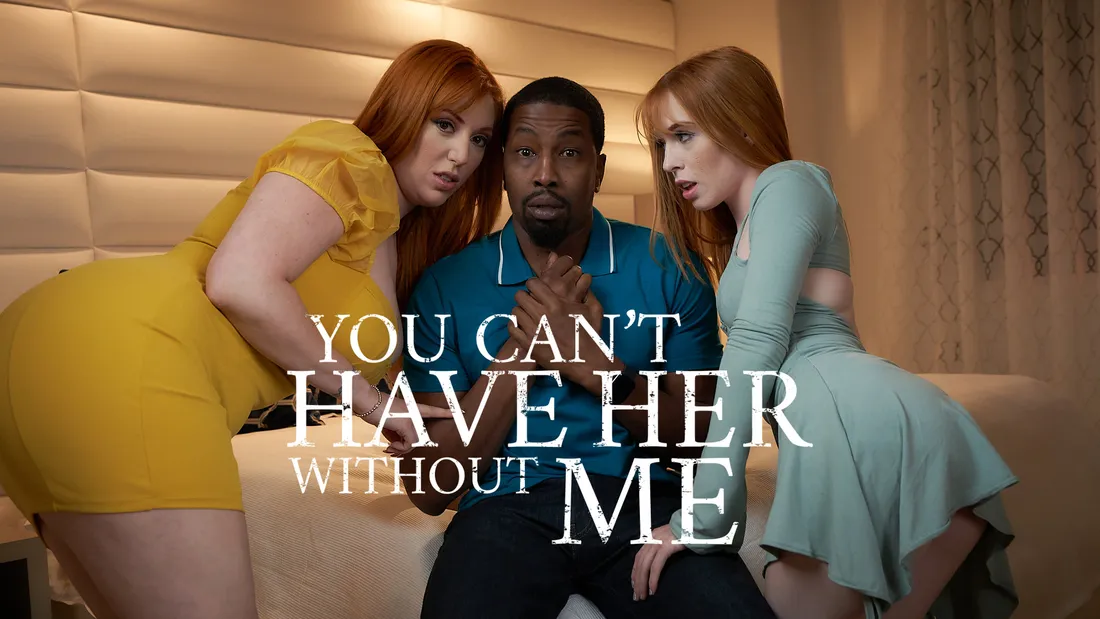 Why watch? A threesome à la Pure Taboo.
Subscribers: Check it out here
Featuring: Madi Collins, Isiah Maxwell, Lauren Phillips
Content type: Straight
Synopsis: Jordan (Isiah Maxwell) and his girlfriend Stacy (Madi Collins) pull up to the driveway of a house. They're there for Jordan to finally meet Nancy (Lauren Phillips), Madi's stepmom. Jordan's a bit nervous – he wants to make a good impression. Stacy is also nervous… though for a very different reason… She hints that her stepmom has a certain "test" for the boys that Stacy brings home. Hopefully, Jordan will pass it… unlike her last would-be boyfriend.
March 26 – We Like Girls – Lauren & Victoria
Why watch? It's time for another episode of We Like Girls!
Subscribers: Check it out here
Featuring: Lauren Phillips, Victoria Voxxx
Content type: Lesbian
Synopsis: Lauren requested Victoria for this scene since they're actually really close friends, and she jumped at the opportunity to show off that very special connection through a sensual scene like the one you're about to see. And when these two gorgeous women finally came together, let me tell you – you can FEEL their chemistry. It's unreal, and I can't wait for you to see what these two powerhouses have cooked up.
March 27 – F.U.T.A. Sentai Squad Episode 4: Old Wounds
Why watch? The grand finale of the second part of the awaited adventures of F.U.T.A. Sentai Squad.
Subscribers: Check it out here
Content type: Animation
Synopsis: MIKA makes a final attempt to convince YUI to join her, but YUI refuses, saying that she doesn't trust CHAIRWOMAN LEBLANC. MIKA agrees to leave, saying she'll fight HOTARU the flame She-hemoth on her own. However, the battle goes poorly, and just as MIKA and the SAKURA D are about to be defeated, YUI comes to the rescue in her own F.U.T.A., the BUKKA MACH K!
March 28 – Oopsie! – Granny Dearest!
*Visuals coming soon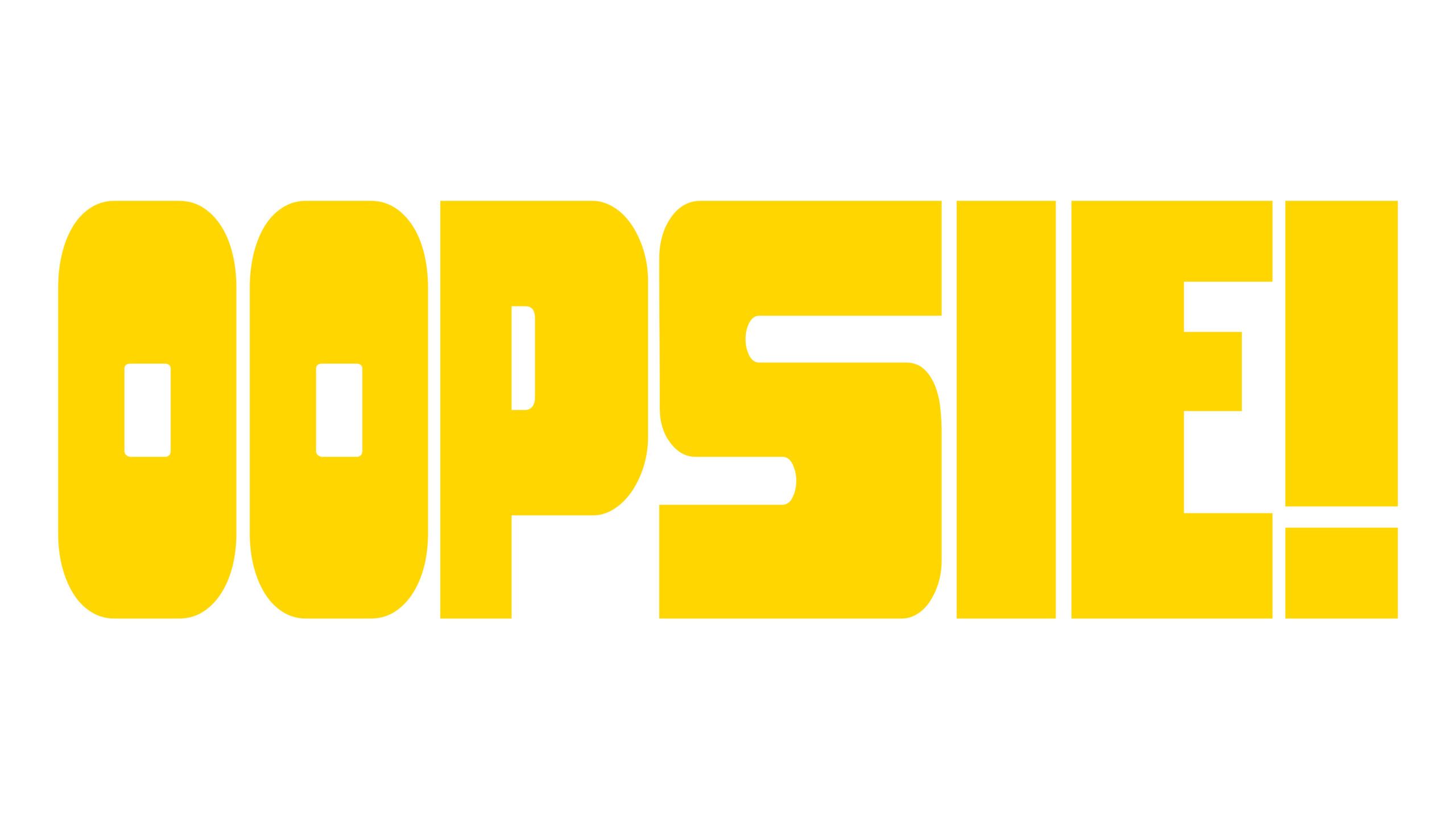 Why watch? The older the cushion, the sweeter the pushin', that's what we said!
Featuring: Cyndi Sinclair, GoGo Fukme, Joshua Lewis. Cameo: Aften Opal
Content type: Straight
Synopsis: Granddaughter brings her boyfriend to visit her grandmother to spend some quality time together. Little does she realize her boyfriend reminds her grandmother of her late husband, causing an intense attraction toward him. When the girlfriend steps away for a moment with the grandmother's caretaker to discuss her health, Granny Cyndi whips up her old seductive charms to have her way with the innocent boyfriend. When the caretaker catches them, she capitalizes on the opportunity to finally have sex with her hot older charge, much to the chagrin of the scandalized granddaughter who stumbles upon this unlikely threesome.