Sophie Pezzutto (they/she) is a PhD candidate and peer support worker based on Ngunnawal Country. As part of their PhD in anthropology at the Australian National University, Sophie is conducting the first ever ethnographic study of the transgender pornography industry. Sophie has written for TSQ: Transgender Studies Quarterly, The Conversation and AG: About Gender. Her research has been featured in Forbes, Buzzfeed, and Mother Jones. Beyond her research, Sophie works for A Gender Agenda, a small not-for-profit that advocates for the rights of trans, intersex, and gender diverse people on Ngunnawal Country. Sophie also works for the Sex Worker Outreach Project, where they provide peer education and support for sex workers.
__________
Since the 2014 Times magazine cover story titled 'Transgender Tipping Point', trans representation in the media has taken off. TV hit shows like Orange is the New Black, Pose, and, most recently, Euphoria demonstrate that the world is finally acknowledging that trans people exist and deserve to feature in key roles. Similarly, trans porn performers are finally appearing centre stage in big budget porn productions alongside cisgender porn stars, breaking down stigmas that have previously excluded them from working in mainstream porn productions. Trans people have, of course, always been around, and thus it is important that we learn about those on whose shoulders we stand on today. Importantly, this includes a history of trans porn because pornography has historically been, and still is for many, the first encounter they have with trans people.
What is trans porn and who watches it?
Trans porn is a vast genre consisting of countless sub-genres all produced by different people and catering to different tastes. Accordingly, casting a blanket statement about how trans people are portrayed or what their experiences are will always be reductive. Rather than think of trans porn as one genre it is better to think of it as a category that cuts across porn genres: There is straight porn, lesbian/gay porn, queer porn, and various kink porn that all feature trans people. The people who watch trans porn are just as diverse and there are folks of all sexual orientations who watch it. Having said this, many trans porn productions cater to straight men as they are porn's largest consumer demographic. So, if you are a straight guy who has come across trans porn for the first time and finds the trans women in it attractive, you are not alone. Those films were likely shot with you in mind, and it does not make you any less straight. I get asked that question a lot.
Early print trans porn
While there is a long history of trans people across cultures being depicted in various erotic ways that range from the painted, to the written, the spoken, and the performed, it was not until the 1960s that widespread trans erotic representations began to emerge in the U.S. The climate of the sexual revolution spawned several magazines displaying predominantly white transfeminine people in erotic ways. The first generation of these magazines revolved around what was then termed 'female impersonators' or 'female mimics': transfeminine folks who performed on stage in various cabaret shows, at first in Europe and then later in the U.S. Despite what the term suggests, many of these mimics lived their lives as women and went on to undergo various gender affirming treatments as the relevant medical technologies became more readily accessible.
Magazines such as Transvestia (1960 onwards), Female Mimics (1963 onwards), and Female Impersonators (1969 onwards) were some of the key trans erotic publications of the time and catered to admirers as well as people who were themselves trying to make sense of their gender diversity. Two of the most famous 'female impersonators' were Bambi and Coccinelle who went on to become celebrities in France. 
Bambi in the first issue of Female Mimics, 1963.
Coccinelle in the second issue of Female Mimics, 1963.
Trans masculine people, on the other hand, remained largely invisible. The little erotica that existed circulated mainly in lesbian magazines and appeared decades after the transfeminine magazines of the 1960s and 70s. One example was the magazine On Our Backs, which was launched in 1984 in the context of the feminist sex wars as a response to anti-porn feminist newspaper Off Our Backs.
On Our Backs magazine regularly featured trans masculine representation.
Film
1969 ushered in the so-called 'Golden Age of Pornography', a decade and a half when pornography became increasingly publicly visible with porn movies such as Deep Throat appearing in cinemas across the U.S. Trans people were mostly excluded from featuring in these blockbuster porn productions, with the notable exceptions of Ajita Wilson and Jill Monro (though they did so with no reference to being trans).
Ajita Wilson is particularly notable for being the first Black trans woman to feature in European pornography, appearing as early as 1976 in Italian pornographic blaxploitation movies such as Black Deep Throat (in reference to the classic) and The Nude Princess, as well as Black Aphrodite in 1977. 
Italian release of Black Aphrodite featuring Ajita Wilson
Trans people only began to appear in video pornography consistently and openly with the films of Kim Christy. Christy had worked as a porn model, female impersonator, and exotic dancer in the early 1970s and was a key figure in publishing F.M.I.: Female Mimics International (FMI) which Christy described as "the Vogue of the transgendered world".
Sulka was Christy's biggest porn star and headlined in Christy's debut feature film Dream Lovers in 1980. Sulka garnered so much of a fan following that she even had an entire magazine centered around her called Sensuous Sulka. Following the success of Dream Lovers in 1980, Christy released the long-running She-Male Encounters series in 1981, now classics in the history of trans porn (though the term is considered offensive by most in the trans community today).
Dream Lovers featuring Sulka
Christy's films are particularly notable because of how queer they were: they emerged from a queer community context with a large trans and gender diverse following; they regularly featured reciprocal oral and penetrative sex; and they intentionally blurred distinctions between bodies by purposefully confusing viewers as to who they were watching. There is even a scene in She-Male Encounters with a latex-wearing transgender domme where the cisgender man exclusively bottoms, rather radical considering this was released during the Regan-Thatcher conservatism of the 1980s! Sulka is also noteworthy for having had a successful porn career after gender affirming bottom surgery, something that I personally would welcome more of in today's industry.
One of the most prominent people to have made a career by creating and marketing trans porn to straight men is Steven Gallon. Gallon founded Grooby Productions and traces its origins back to 1996 with the website ShemaleYum.com. Today, Grooby is a key producer in the trans porn industry and host of the Transgender Erotica Awards (TEA) Show, which is solely dedicated to recognising the work of trans porn performers in the industry. While Grooby was one of the first to market trans porn to straight men, John Keeler, who adopted the stage name Jane Waters, was one of the pioneers of VHS & DVD trans pornography for straight men. Keeler directed the Transsexual Prostitutes series for Devil's Films, which would eventually populate the shelves of adult DVD stores all over the world. Premiering in 1997, the first volume was so successful that the second and third instalments were promptly released later that year and the series continued to be produced until 2014, with its final 76th instalment seemingly concluding the series, presumably due to its problematic title (today's preferred term is sex worker). Similarly important in the history of trans porn is Joey Silvera who in 1998 directed the first instalment of the Rogue Adventures series. Like the Transsexual Prostitutes series, Rogue Adventures was a huge success and is still being produced today, with its 45th instalment released in 2016. 
It is fair to say that most of the commercial trans porn following Christy from the 1990s onwards was very straight, featuring trans women predominantly as bottoms, and with the directing having straight men as viewers in mind. Bucking this trend have been several queer studios from the 2000s onwards. Most of these studios came into existence in San Francisco, home to an already vibrant queer community and indie pornography scene. Though much smaller in terms of budgets and production sizes, these studios have produced pornography that speak to and feature a diverse range of people, including trans people. Importantly, they have also often been run and owned by queer people themselves, highlighting how important it is to have people with similar experiences behind the camera. In 2002, for instance, Courtney Trouble founded NoFauxxx.com, a site for queer pornography that features trans performers. In 2007, San Francisco's Pink & White Productions, known for its queer friendly content, launched its Crashpad series, featuring queer trans porn. 
Similarly, trans masculine pornography emerged from, and in many ways remains within, a queer community context in San Francisco. The earliest examples of video pornography featuring trans men are Annie Sprinkle's 1989 docu-porn Linda/Les and Annie: A Female-to-Male Transsexual Love Story and the films of activist-filmmaker Christopher Lee, most notably the 1998 film Alley of the TrannyBoys and, one year later, Sex Flesh in Blood. From the early 2000s onwards transmasculine pornography has moved beyond San Francisco to Los Angeles. Key figures worth mentioning are Buck Angel, who founded Buck Angel Entertainment in 2003, and who managed to create significant trans masculine visibility by appearing in the relatively mainstream 2005 Titan Media gay porn release Cirque Noir. Van Diesel, in turn, appeared in the 2006 feature Van Diesel: Man with a Pussy and that same year in Diesel Exposed as well as Diesel's Double Vision.
A notable example of trans porn produced by trans people is the 2005 release Allanah Starr's Big Boob Adventures which features trans women Allanah Starr and Gia Darling alongside Buck Angel. Released by Los Angeles-based Gia Darling Entertainment and directed by Gia herself, the film was at the time one of the few mainstream trans porn titles directed and released by a trans woman.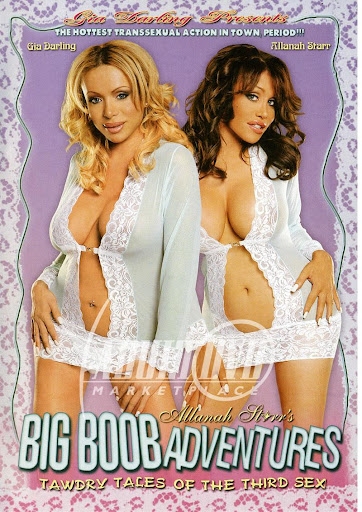 Allanah Starr's Big Boob Adventures
Trans porn today
Today, trans porn is being produced by some of the adult industry's largest companies, highlighting how trans people are no longer a side show. In 2015 TransSensual was founded with a focus on narrative driven trans porn. In 2017 Wicked Pictures, a mainstream straight studio, featured industry star jessica drake (lower case intentional) in jessica drake is wicked performing with trans performers Venus Lux, Domino Presley, and Aubrey Kate (https://www.xbiz.com/news/230012/wicked-unveils-jessica-drake-is-wicked-cover). In the same year Adriana Chechik performed in her showcase Adriana Chechik is the Squirt Queen for Evil Angel with Aubrey Kate. These showcases were followed by the opening of TransAngels in 2017 by MindGeek, the porn industry's presumably biggest company. Following the success of TransSensual and the founding of TransAngels, Gamma Entertainment, who had been hosting trans porn since 2006 on its Adult Time platform, decided in 2018 to directly produce trans porn by launching TransFixed. Headed by director Bree Mills, it has since garnered industry attention for popularizing narrative-focused trans lesbian porn, that is trans women having sex with trans women and/or cis women. 
Although much of the porn featuring trans men is marketed to a gay audience, some of the mainstream trans porn studios have also begun to feature trans men in their productions, thus opening space up for the consumption of transmasculine bodies by straight-identified men. Examples include Grooby's House of Whores (2018) featuring Eddie Wood, Evil Angel's Girl/Boy 2 (2016) featuring Buck Angel, and TransSensual's Naughty TS Hotties (2017) and Buck Angel Superstar (2017), with Viktor Belmont and Buck Angel respectively. 
As these developments demonstrate, trans people are sexy and desired, and the world is finally slowly acknowledging that.