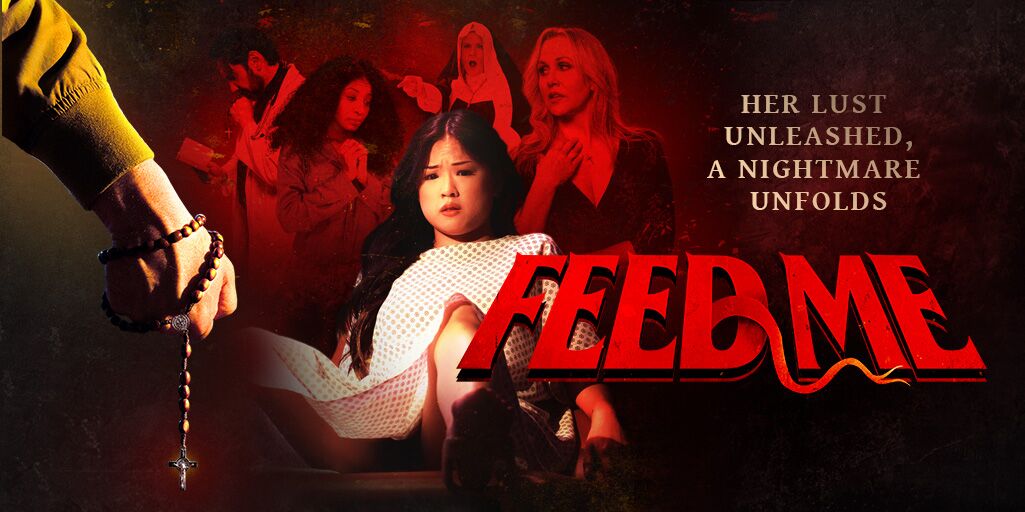 We're thrilled to announce the release of Feed Me, the ravenous new feature film from director Ricky Greenwood, exclusively available on Adult Time.
In this captivating four-scene feature, Lulu Chu stars as Sally, a woman who wakes up one morning with excruciating abdominal cramps. Her journey takes a peculiar turn when she encounters a nun (the legendary Ginger Lynn) and seeks help from Dr. Petit (Tommy Pistol), who discovers that there seems to be no cure for her relentless hunger.
Driven by her insatiable appetite, Sally embarks on a quest for gratification, engaging with an old crush (Alex Jones), a handsome co-worker (Damon Dice), and her best friend (September Reign). But even that isn't enough. With the guidance of Dr. Petit, Sally must find a way to break free from the overwhelming force that has taken control of her life.
Building on the triumph of his previous Adult Time productions, including Sweet Sweet Sally Mae, Grinders, and The Bargain, award-winning filmmaker Ricky Greenwood is poised to make waves in the upcoming 2024 awards season with Feed Me. This mesmerizing feature film transports viewers back to the golden era of horror, evoking the spirit of '80s cult classics through its masterful use of special effects. As the audience is enveloped in an eerie and unrelenting atmosphere, they are taken on a haunting journey alongside the film's protagonist.
"Feed Me is a cinematic exploration of the consuming nature of desire," says Greenwood. "Through Sally's character, these cravings take on a life of their own in a journey that's both unsettling and fascinating, and we look forward to taking audiences along for this incredible ride!"
"Working with Ricky on these types of projects is always a blast", says Adult Time's Director of Marketing Frank Stacy. "Not only is he one of the most passionate individuals in the industry when it comes to movie-making, but his extensive knowledge of cinema gives him an edge that makes all his projects unique and fun!"
Join us on Adult Time to indulge in Feed Me and explore the world of adult entertainment like never before.