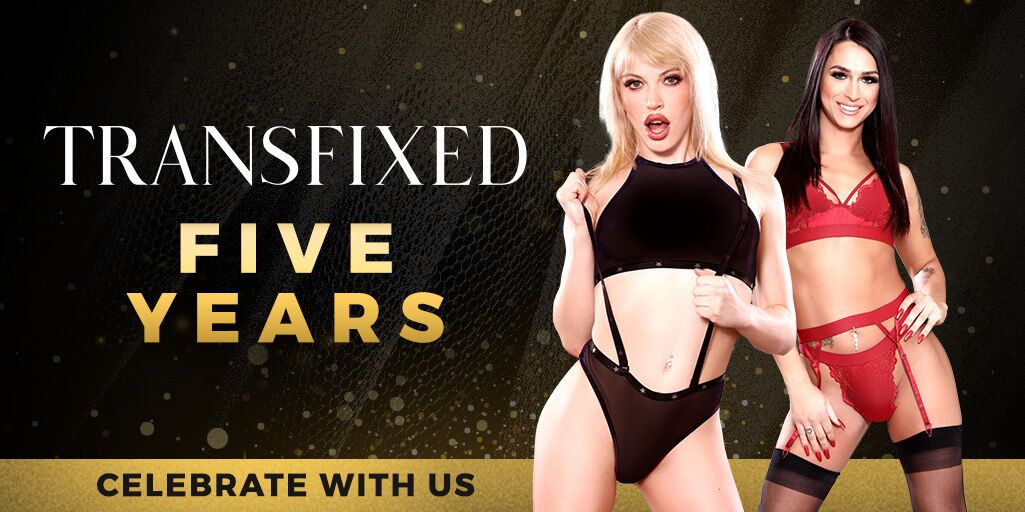 We're thrilled to announce that Transfixed, our flagship trans studio, is celebrating an incredible five years in the industry! As part of this milestone, we have some exciting updates and expansions in store for Adult Time members.
Transfixed is now set to release two additional episodes per month of its 'straight stories' series, alongside the existing four 'lesbian stories' series episodes.
"Over our first five years, we've amassed a loyal following for our lesbian series," said Bree Mills, Adult Time's Chief Creative Officer. "At the same time, we've also seen a rise in interest from performers and fans alike to bring our style of storytelling to the straight niche as well. Without impacting the frequency of our lesbian offering, we've decided to greenlight a spinoff straight series within the studio to offer to subscribers as added value. Using Adult Time's preference filters, fans can now choose to watch whichever Transfixed stories suit their personal tastes."
To celebrate the anniversary milestone, Transfixed is also starting production this month on a brand-new lesbian feature film, featuring an all-star cast of trans and cis performers.
"Hot on the heels of last year's hit film, Office MisConduct, we're bringing a new twist to one of our favorite genres at Adult Time and a subject that very much resonates with 2023 trends. Make sure to stay tuned to our socials to get a first look at the filming of D.O.L.L.S!" says Mills.
Join us as we take a trip down memory lane in the following video, reliving the captivating episodes that have made Transfixed the beloved trans studio it is today. Also, enjoy a heartfelt shoutout video from our talented performers, sharing their thoughts on reaching this incredible milestone.
Transfixed is offering a fantastic month-long deal starting today in celebration of our five-year journey. For just $5, you can enjoy a month of membership, granting full access to Adult Time, with over 400 channels, 60,000 episodes, and 8 new releases per day from our award-winning brands. Let's celebrate together!